What will soon be the newest addition to our family. Isn't she adorable? She's about 3 weeks old, and is being fostered through my veterinary clinic, Mayfair Animal Hospital. She was found in an alley at about 2 days old; she still had her umbilical cord attached.
A couple days ago, Sue, one of the staff, called me and tentatively asked if I may consider adopting this little bundle. I lost Mouf just a few weeks ago, and she knew it was rather soon, but they felt I took good care of my pets and wanted to find her a good home.
Well, I thought for about 10 minutes, and I cried for about 5 minutes, and then I called my DH, Mark and asked for his input. Sure, why not, was his reasoning. So, the next day we went to see her after work. And of course we said "Yes, we'll take her." Honestly, who wouldn't? It takes a lot of self-control to walk away from a little kitten.
We have a name all picked out for her: Fiona. (Actually, Mark wanted to name her Esther, as he thinks we should continue giving "good Jewish names" to our pets, but I put my foot down nad insisted she looked like a Fiona to me.) We won't be bringing Fiona home for about a month. She's too tiny right now and is still being bottle fed and litter trained by Sue. But, we can visit her whenever Sue is at the animal hospital, which is most days.
I went to visit her today and it's amazing how quickly she is growing. Just two days ago when we saw her for the first time, she was really wobbly on her little legs. Today, she was scrambling around on the floor with much more vigor, and Sue said she even ran a bit earlier.
We'll have to introduce her to the dogs very carefully. I'm not worried about Sadie as much as I am Hannah. Hannah has such a high prey drive that she goes after any small thing in the yard: birds, squirrels, rabbits, wandering cats, garter snakes, etc. have all been diligently pursued and even killed (the kill count is up to 4 sparrows so far this year -- although to be fair I saw Sadie take one of the four out with my own eyes -- and one garter snake).
I don't think I've put up photos of "my girls," as I call them. Both were adopted from the City of Chicago's David R. Lee Animal Shelter. Here's Sadie.
Sadie's our "sensitive" girl. I don't know exactly how to explain it, but she seems more emotional somehow, and she's not very trusting of men. Sadie's also our guard dog. Of the two, she always barks when someone approaches our house/yard or the next door neighbor's house/yard. She's our joint watch dog, and the elderly couple next door seem to appreciate that. I'm working on getting her to bark only once or twice and then stop, though. We're pretty sure Sadie is a beagle and fox terrier mix, with a beagley sounding bark. We adopted Sadie first at about 1 year old, and have had her for two years now.
Here's Hannah.
Hannah is full of contradictions. She's a big couch potato, and an avid hunter. She adores people of all ages and sizes, and is a huge attention hog. We've had Hannah for a year and a half now, and she is just starting to get into the watch dog routine. Unlike Sadie, she doesn't take it to extremes, but she will bark once if she hears someone outside the house if Sadie hasn't zeroed in on it yet. Hannah has an obsession with squirrels. She is the first one out of bed every morning and dashes to the door to go outside so she can get the jump on the squirrels. She climbs into the tree behind the house all the time, desperately trying to catch a squirrel.
Hannah is also our "problem child." During the first 4-5 months we took her to training classes, dog parks, and on lots of walks and she seemed to deal just fine with other dogs. After she settled in, though, she started showing a lot of agression towards strange dogs. We had a trainer come to our house, and have taken her to a behaviorist, too. The consensus is that she does this out of fear and that it will be a looonnnnggg time of training to try to change this behavior. No more dog park trips for Hannah in the foreseeable future.


See Hannah in the tree? Sadie climbed up there once when we first brought her home, but decided she didn't like it. That's Hannah's home perch, though. All we have to do is say , "Hannah, squirrels!" and she's off like a shot jumping up into the tree. Life's never dull around here!
...On the needles...
Sitcom Chic is coming along well. I've started sleeve #1, and if I'm diligent about it today/tonight I can get it finished. I'd really like to complete it in time to wear to Stitches Midwest next weekend. We'll see. I've got so many potential projects right now, it's kind of hard to commit to finishing it.
Next Sunday, Eve is having a b-day party for her little boy. I'm trying to think of something to make a little boy that can be done in about 10 hours. I've also continued to swatch for infant-sized gifts. The SnB gals talked me out of doing a baby blanket and into doing a baby sweater or even a full layette set (sweater, hat, and booties/socks). I think they were also trying to save a cute little baby from this:


Yep, this yarn is fugly, isn't it? What was I thinking when I bought this? Well, you can tell by the label that it was bought ages ago, when I first was learning to knit. Why is it that new knitters are more likely to go for this shit? For whatever reason, I have about 10 skeins of it in a storage bin under the guest bed, and I really need that space for all the Cotton Ease I'm hoarding. I may just knit it into blankets after all and donate them to an animal shelter. The dogs and cats won't mind, I'm sure.
So, I started a baby cardigan using Lion Brand Magic Stripes in Jelly Bean. I just ripped it out today when I realized how incredibly scratchy that feels. I think I'll end up doing the sweater in Cotton Ease, which feels much softer; I certainly have enough of it!
As promised, here's another photo of W.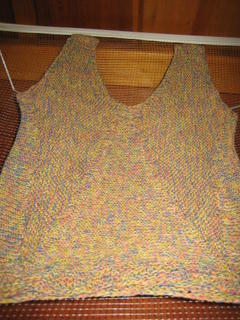 This one shows the stitch details better than that portrait Mark took of me wearing it. It is difficult to take a good photo of knitting, though. I think I realize why so many folks take their photos outdoors in natural light.
I found another LYS today quite by accident. I had an appointment in Evanston today with the chiropractor and happened to park around the block. As I was walking along Grove Street towards Sherman, I was looking at the window displays and all of sudden I see yarn and knitted items. Good thing no one was directly behind me, or they would have run right into me as I came to a sudden halt.
The LYS, Close Knit, didn't open until 11 AM, which was fine with me as I could stop by after my chiropractic treatment. Very nice store with many different kinds of yarns than I see at Arcadia. There was the Manos yarn from Uruguay, Noro, Baby Ull, Brown Sheep, and several other brands that I just can't recall now. I bought some needles and some Jaeger Baby Merino for the baby sweater. Wait, didn't I just say I was doing the baby sweater in Cotton Ease? Well, I have two baby sweaters to complete before the end of the year, so I can do one in Cotton Ease and one in Baby Merino, OK?
...In the garden...
I picked another cuke yesterday, and saw a third one forming on the vines. The cukes aren't coming in fast and furious like they did a few years ago, but I'm getting a few. Really, it's better this way as Mark doesn't really want to eat any, so it's just little 'ol me chowing down on fresh cukes. I made a pasta dish the other night with eggplant and tomatoes from the garden that he seemed to like. Delish!
Yesterday, I also tried my very first cucamelon. Interesting little tidbit; it was crunchy, but juicy at the same time and a little tart. The little cucamelon fruit was about the size of a large almond. I popped it in my mouth, and when I bit through the crunchy outside, there was a little squirt of juice and pulp in my mouth. I gave one to my neighbor Mila to try, too. She said it was just like a cross between a watermelon and a cucumber. The cucamelon vine is really flowering now, so I expect to get more of the little fruits. I'll have to take a photo of the next one before I eat it.
Need I say that I have more beans? Lots and lots of beans.